Today I finished my Butterfly Apron from
Crochet Adorned
. I crocheted the butterfly pocket and the trim yesterday and sewed up the apron today. The directions for the apron are included in the book. It is really a basic gathered half apron so it was a quick project to sew.
I had picked out the main fabric from my stash because I liked it with the pink thread I used for the crochet. So after making the butterfly and the trim I needed to find something in my stash to use for the contrast waistband and lower band. Even though I have a huge stash it proved to be difficult to find anything that looked good with this fabric and trim.
You may ask why didn't I just go out and buy something. Well I joined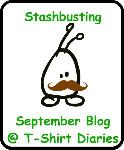 Stashbusting September at T-Shirt Diaries.
So I am not allowed to buy any new fabric or craft supplies. After rooting through several bins of unorganized fabric nothing was really looking even remotely right with what I had picked out so far. Finally I found this black and ivory gingham and I thought it gave the apron just the right vintage feel and contrast. I was thinking about giving this as a gift but once it is finished I want to keep it for myself. Maybe I will just make another one for a gift.

I am going to enter this project in the Craft Book Month Linky





Party. I might win some more goodies to add to my stash. I think that is allowed since winning isn't buying anything.