Several weeks ago I picked up this vintage damask tablecloth at my local Goodwill Store. I only paid $2.00 for it. It was in pretty good condition with only two tiny holes that were easy to avoid when cutting out my pattern.
The pattern I used is the
Damask Jacket from Barb Originals
. I bought this pattern several years ago at the Sewing Expo. For some reason I have never sewed it up before. It is a loose fitting swing jacket. As the name suggest it was designed to be made using a Damask Tablecloth. You can use any fabric that has a nice flow to it. Barb also sold some very lovely linen in her booth at the Expo. My tablecloth had a nice drape to it but I didn't want a white jacket. So I tried my first dying project. I followed the directions on the package of Rit Dye and dyed the fabric in my front loading High Efficiency Washing machine. I think it turned out great. The petal pink color shows off the damask pattern better too. It was quite a large tablecloth s
o I have some leftover. Not sure what I will use it for there is not enough for another jacket. This was a very easy pattern to sew.
Since I was using a vintage tablecloth for my fabric I thought this was a perfect place to use a few of my vintage hankies too. I used two of them, one was added to the peplum at the back and the other at the collar and cuffs. I had a tiny piece of hankie left over from my
hankie tops
. I decided to make it into a flower pin to add to the lapel. that added just the right finishing touch.
The buttons I used are some vintage buttons
someone gave me. I really wanted to use three different large vintage buttons. I had in mind some gold toned buttons with pearly centers. But I could only find one that I liked in my stash. So these gold dome buttons are temporary until I find some better ones. I wanted to wear this jacket to work tomorrow so these buttons are OK for now. It is really hot around here right now but I go from hot to cold with the air conditioning. This is a very lightweight jacket and it will brighten my day. I just have to decide what to wear with it. I love my pretty pink jacket.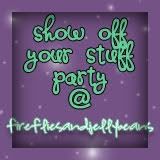 border="0" href="http://tatertotsandjello.blogspot.com"
target="_blank">
src="http://hadfield.smugmug.com/photos/825895175_xmTVA-O.jpg"
alt="Join us Saturdays at tatertotsandjello.com for the weekend wrap
up party!" />